SRS Distribution Inc., ("SRS") a leader in the building products distribution industry, announces the winners of the Roof Hub Champion's Club Promotion for November.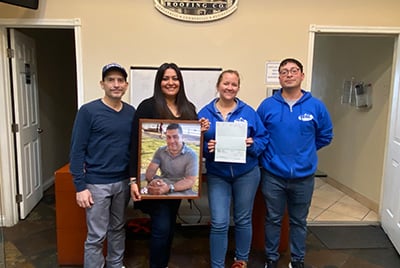 The Roof Hub Champion's Club Promotion ran from October 1st through October 31st, and again November 1st through November 31st. SRS customers entered the promotion by placing their material orders through the Roof Hub platform. The grand prize for the promotion was a brand-new Ford F150, or an equivalent cash prize of $30,000. First Runners-up won a Dallas Cowboys Experience, Second Runners-up won a Las Vegas Bowl Experience, and Third Runners-up recieved 20 free EagleView Reports.
The Grand Prize Winner for the November promotion was awarded to Jobe Roofing from California. The company was founded in 1998 by Jobe Carbajal, who passed away unexpectedly in 2021. Jobe Roofing continues his legacy under the guidance of his wife, Veronica, by following his core values of punctuality, professionalism, respect, integrity, honesty, and ethics. Said Jobe Roofing, "We would like to thank SRS Distribution for giving us a little bit of light at the end of a tough year with this grand prize."
"We are delighted to award Jobe Roofing with this prize. It's incredible to see our customers' success using Roof Hub. We created it for our customers, and we are continually focused on adding new features to make it even better," said Boyd Henry, Digital Integration Specialist at SRS Distribution.
The First Runners-up prizes for November were awarded to Blue Eagle and Cutting Edge of HHI. Second Runners-up went to Stark Roofing and Hail Cat.
Roof Hub is SRS Distribution's exclusive digital ordering platform. It is available on desktop and as an app on mobile devices. Customers can order materials online, track their deliveries in real-time, view their invoice history, and more. To find out more about Roof Hub, visit: https://www.roofhub.pro/.
About SRS Distribution
Founded in 2008 and headquartered in McKinney, TX, SRS has grown to become one of the largest and fastest growing building products distributors in the United States. Since our inception, we have established a differentiated growth strategy and entrepreneurial culture that is focused on serving our customers, partnering with our suppliers, and attracting the industry's best talent. We currently operate under a family of distinct local brands encompassing more than 650 locations across 44 states. SRS Distribution is a portfolio company of Leonard Green & Partners, L.P. and Berkshire Partners LLC. For more information, visit www.srsdistribution.com.