David Weekley Homes, one of the nation's largest privately held home builders, recently announced the winners of its 18th annual National Preferred Partner Survey. This award recognizes field and manufacturing partners that have consistently operated at world-class levels, as determined by the home builder's supplier evaluation platform. This comprehensive process, anchored by the National Preferred Partner Survey, evaluates companies in the areas of quality and customer service. SRS Distribution has been recognized as one of the twelve National Preferred Partners selected.
"The home building industry has experienced a number of obstacles in the past two years," said John Schiegg, Vice President of Supply Chain for David Weekley Homes. "At David Weekley Homes, we've been able to continue providing a high-quality product to our customers thanks to our outstanding National Preferred Partners who provided their products and expertise and helped us combat supply challenges."
"We are thrilled to be recognized as a National Preferred Partner of David Weekley Homes," said Troy Baker, Vice President of National Accounts for SRS Distribution. "At SRS Distribution, the foundation of our success is based on a culture and a commitment to building long-lasting relationships. Like David Weekley Homes, we are dedicated to help deliver the American Dream of home ownership throughout every community we serve."
The National Preferred Partner Survey format consists of two questions with a 1-to-5 rating system for partners and is sent to David Weekley Homes team members that are currently doing business with them in their market. When the Preferred Partners receive their quarterly results, they are shown how they rank amongst National Preferred Partners in their industry as well as the contact information for each David Weekley Homes team member who completed an evaluation for them.
The evaluation process involves a comprehensive system of feedback and discussion that enables David Weekley Homes to measure excellence among all established trade partners and their channel partners. Providers that receive the highest scores throughout the year are presented with the prestigious National Preferred Partners Award.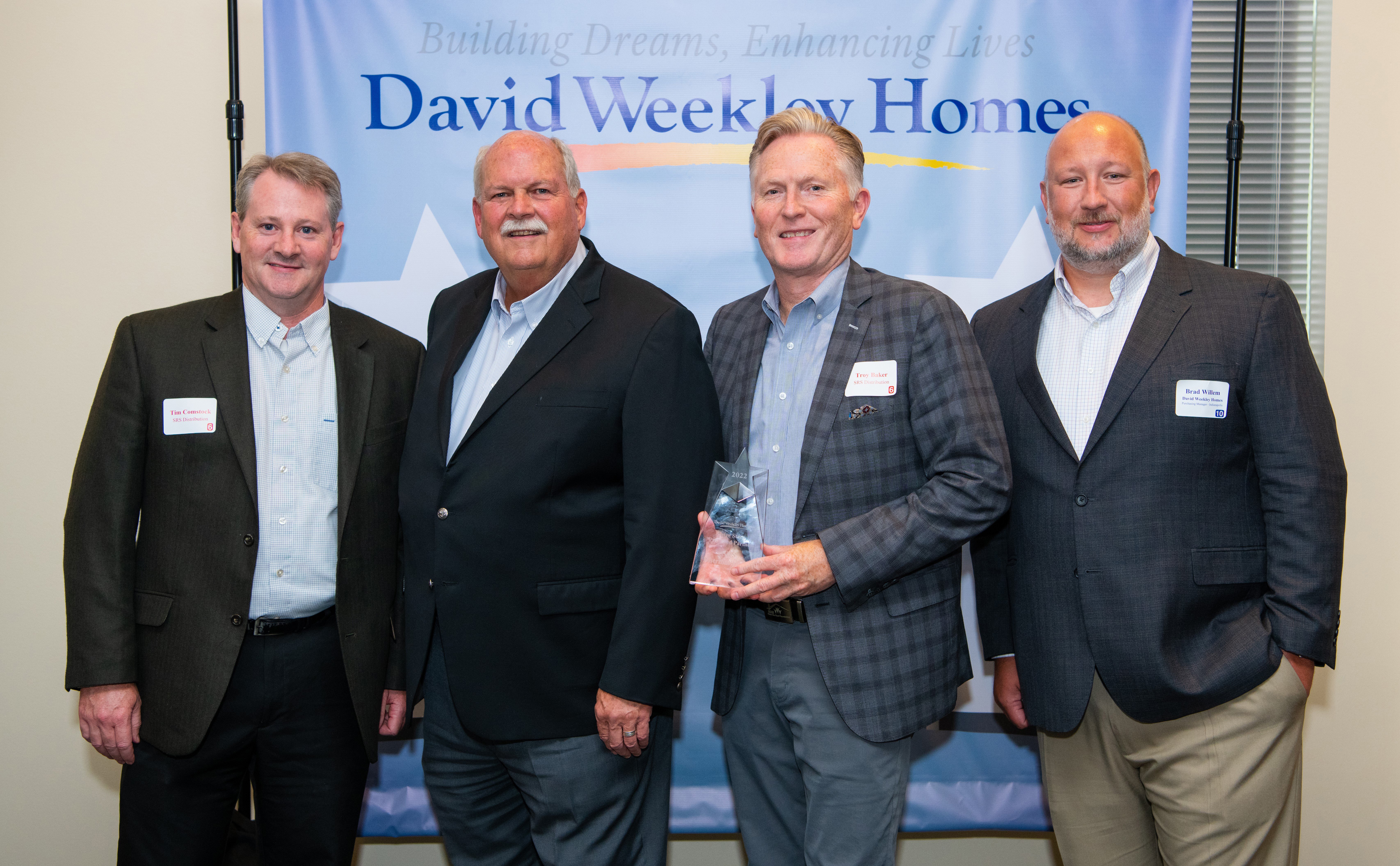 About David Weekley Homes
David Weekley Homes, founded in 1976, is headquartered in Houston and operates in 19 cities across the United States. David Weekley Homes was the first builder in the United States to be awarded the Triple Crown of American Home Building, an honor which includes "America's Best Builder," "National Housing Quality Award" and "National Builder of the Year." Weekley has also appeared 15 times on FORTUNE magazine's "100 Best Companies to Work For®" list. Since inception, David Weekley Homes has closed more than 100,000 homes. For more information about David Weekley Homes, visit the company's website at www.davidweekleyhomes.com.
About SRS Distribution
Founded in 2008 and headquartered in McKinney, TX, SRS has grown to become one of the largest and fastest growing building products distributors in the United States. Since our inception, we have established a differentiated growth strategy and entrepreneurial culture that is focused on serving our customers, partnering with our suppliers, and attracting the industry's best talent. We currently operate under a family of distinct local brands encompassing more than 600 locations across 44 states. SRS Distribution is a portfolio company of Leonard Green & Partners, L.P., and Berkshire Partners LLC. For more information, www.srsdistribution.com.