SRS Distribution Inc. ("SRS"), the nation's leading distributor of roofing materials and building products, has expanded its Texas A&M partnership to include a Name, Image and Likeness (NIL) Deal with Texas A&M starting quarterback and 2022 Freshman All-American, Conner Weigman. With this recent agreement, SRS continues to have a long-standing relationship with Texas A&M, boasting many former Aggies in its employment ranks.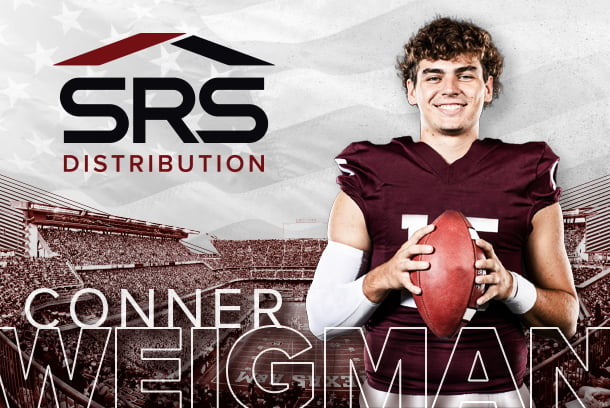 SRS is the presenting sponsor of the Texas A&M Military Appreciation programs during football season at Kyle Field, and is currently engaged in a multi-year relationship with the Texas A&M Aggies through LEARFIELD, an athletics multimedia rightsholder for nearly 200 college properties across the U.S. This sponsorship, along with the NIL partnership with Conner Weigman, allows SRS to continue their support of Texas A&M and strengthens their ongoing commitment of recruiting both former Texas Aggies as well as veterans in the workforce.
"We could not be prouder to partner with such an accomplished athlete as Conner. His commitment to his team as well as his character both on and off the playing field exemplifies our company's culture," said CEO Dan Tinker, a former graduate at Texas A&M University. "This agreement solidifies our unwavering support of the Texas A&M Aggies, college football and the talented young leaders that call College Station home."
In addition to the Conner Weigman and Texas A&M partnerships, SRS Distribution's college sponsorship portfolio includes title sponsorship of the SRS Distribution Las Vegas Bowl as well as relationships with the Duke Blue Devils, North Carolina Tar Heels, Penn State Nittany Lions and the iconic Red River Rivalry at the Cotton Bowl in Dallas.
About SRS Distribution
Founded in 2008 and headquartered in McKinney, Texas, SRS Distribution has grown to become one of the largest and fastest-growing building products distributors in the United States. Since the Company's inception, it has established a differentiated growth strategy and entrepreneurial culture that is focused on serving customers, partnering with suppliers, and attracting the industry's best talent. SRS currently operates under a family of distinct local brands encompassing more than 710 locations across 44 states. SRS Distribution is a portfolio company of Leonard Green & Partners, L.P., and Berkshire Partners LLC. For more information, visit www.srsdistribution.com